I remembered post were due tomorrow... And felt like a bad student forgetting his homework! So I started thinking of what I could post about.
I LOVED that movie, like pretty much every witch around. When I first rented it (VHS, please!) I've listened to it over and over and over again until my 24h were done. The gorgeous house, the spells, the characters...I was around 11 when I first listen to it (if I remember right...) How I wished I had such powers, such cool aunts... and a sister to rely on! From that day on, pretty much all the characters I drew had mismatching eyes. I usually drew myself with one eye green, one eye brown (I have peers eye that vary between those 2 colours).
One of my favourite scene is when the sisters are young, and they are learning magic with their aunts, dressed as angel.
I expected people to share recipes of margaritas and their version of the love spell. I wanted to share something different. I thought about making angel wings (I easily see Mariann in those!) but I didn't have enough feathers... So what else? The spellbook amazed me.. But I don't want to just show you my BOS (there's nothing much to see, anyway) But I've handbounded mine, and thought about that mini one I did (the ones I sell in my etsy). So here you go:
Pocket Hand bound Spellbook tutorial!
You need:
-Paper
-Scissor
-Thread
-Needle
optional:
-Various stickers, bits of plants, watercolor, pencils... to make something interesting inside it when you're done
First you cut you paper. My rectangles for this one were about 2x3".
By group of 6, I've ply them.
Until I had a nice bunch. 6 this time.
Enter you needle on the back of the first bunch. Stitch in and out, and knot on the back.
Enter the next bunch, knot in front, repeat. It'll make a kind of accordion. Close your pages and gather so that the backs are all together. Knot at the end.
Pass your needle in the thread from bottom to up. Enter back of the last bunch and knot.
As for the cover part... to be continued!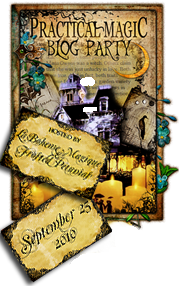 please join the fun! And hello everyone coming from there!
update: part 2 is
here!