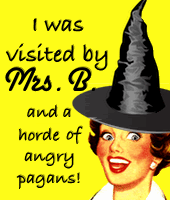 The lovely Mrs.B from
Confession of a Pagan Soccer Mom
featured me yesterday!
So, if it's not too late (yesterday I was at my in-laws
not
blogging or having any internet :P) I'd like to welcome all those new commers from the
horde.
You can read a bit of why I say I'm pagan here, and you can browse the
Personal label as well to get to know me better
. I write about being and becomming a mom and other random stuff.
I also have some projects showcased in the section under the headers...those are pretty self explicatory!
Also feel free to write anything on my gmail adress, I love getting emails :)
Thanks to Mrs.B for the really nice comments about my blogs!
It's really awesome to be featured by one of my favorite blog :)