Here we go again for another breastfeeding journey. I've breastfeed Mariann for 10 months (she weaned herself so quickly!) and I'm hoping it last a little longer this time.
I'm tired and drained. I
didn't remember
it was so energy demanding. How could I forget? Well, it seems I tend to remember the positive...The sense of accomplishment, the connexion and intimacy...I didn't remember it was so time consuming. Maybe cause this time, as I feed him most part of the night, I know that at around 5am my daughter is going to wake up, and I won't be able to get some rest before she does, and she goes to nap at 1 pm. When it was just me and her, we'd sleep in till noon (with a feed or two).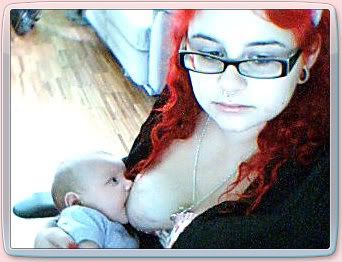 Today is my first day alone with both. Merrick is sleeping in his carseat and Mariann found how fun a measuring tape can be (and is currently trying to measure my belly)..
at least, I'm not as big anymore and we're comfortable being two on the computer chair!
The picture above is a screenshot from a msn conversation. My friend thought is was beautiful and sent it to me... Should I knew it I'd have smiled... anyway. I'm showing you because I still love it a lot. I don't have many breastfeeding pictures past the first days of Mariann's birth, I realize it now, and it kind of makes me sad...
Oh, looks like we're up for another feed!
Hope everyone is enjoying the last bits of summer :)